Positive review responses: Examples and best practices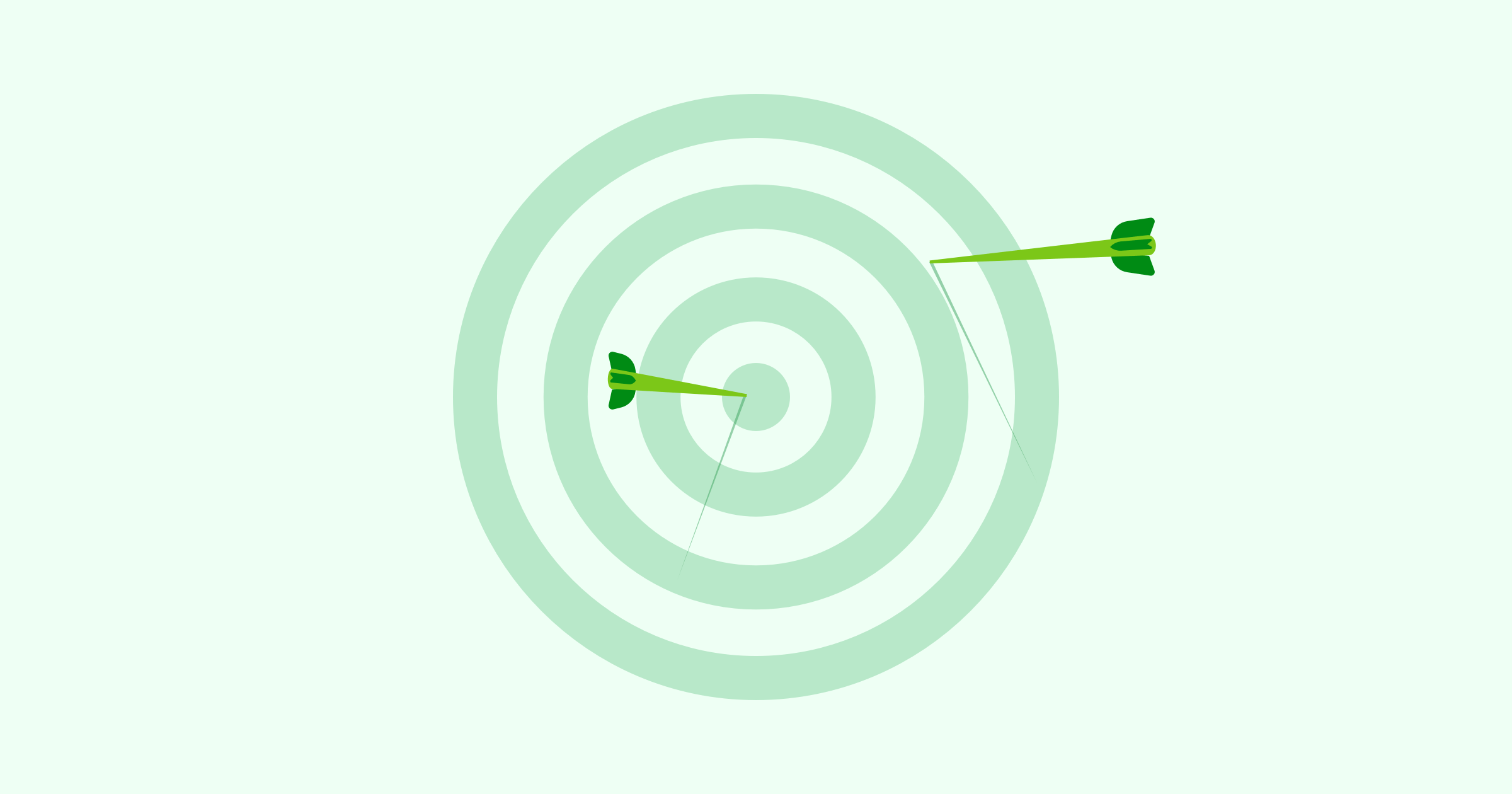 No matter what industry or customer your app serves, positive reviews are one of the best indicators that your product is meeting a genuine need for your users. A huge number of Appbot's customers monitor positive review volume as a measure of success. You could almost say that it's something every app developer aims for.
In this guide we'll answer these FAQs:
Despite this, when it comes to responding to positive reviews we often seem to feel a little stumped. Should we respond to positive reviews? And if so, why? How will we know if the time invested in responding has been worth it? And last, but most definitely not least, what should we actually say in our positive review responses?
In this guide we will explore both examples and best practices for replying to positive app reviews. You'll be a master by the end of this post, with a list of strategies up your sleeve!
1. Why are positive review responses important?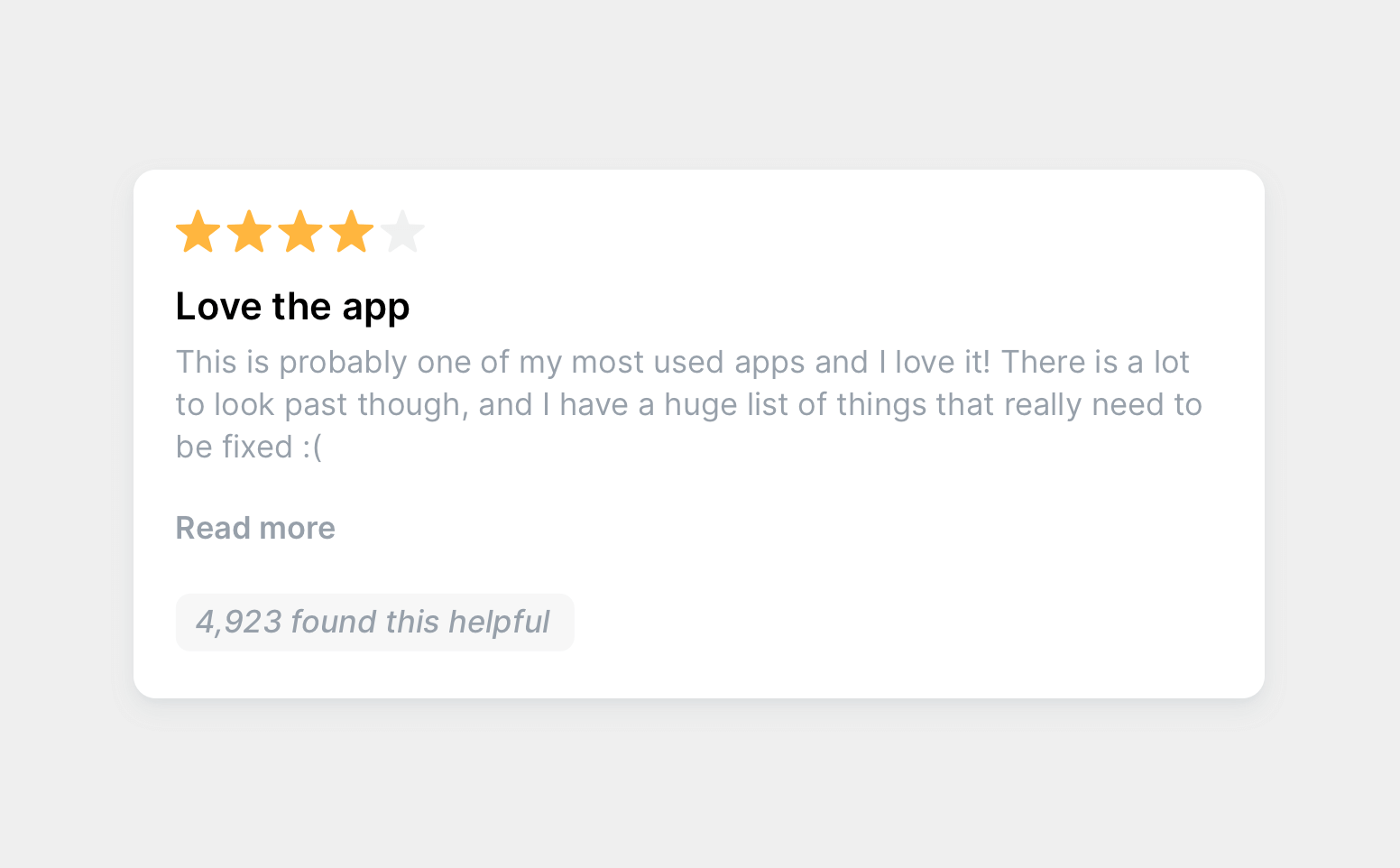 There are several reasons why responding to positive reviews is a valuable use of your customer support resources:
Reviews are publicly visible, and responding can positively impact on your download rate.
Responding to positive reviews drives word of mouth even further by making your fans feel valued.
Build team morale by engaging with happy customers.
2. How should app developers personalize their positive review responses?
Personalization can feel a little tricky in the app stores, where you don't have a first or last name to work with. You can, however, include the reviewer's username in the review. Personalization does not only refer to how you address the user in your reply - you can also make your response personalized by addressing specific elements of the positive review in your reply.
Here's a great example from the team at Glorify app:

This example is, however, missing one key element of personalization: the sign off. Don't be afraid to sign off with your name, or a pseudonym if you prefer - each member of your team might like to choose one!
3. Which positive reviews should I prioritize responding to?
There is no right or wrong answer here. Ideally you would respond to all your positive reviews, but that isn't always practical. We have over 1 billion reviews in the Appbot database, and over the years have run various internal analyses to understand whether some reviews are more important than others. We recommend replying to longer, more detailed reviews first. These tend to contain more useful feedback and these users have been generous with their time - reciprocating with a response will make them feel appreciated.
(Shameless plug: Appbot makes it easy to find longer reviews. Simply create a Custom Topic with a minimum word length set - we suggest 10-12 words. You can even set up Zendesk and many other CRMs to receive the reviews that match that Custom Topic, to funnel the priority reviews directly to your support team.)
4. What are the components of an effective positive review response?
Express your gratitude for the positive review.
Personalize your response by addressing the person by username, commenting on any specifics in their review and signing off with your own name or pseudonym.
Mention how you plan to put their feedback to work, like this positive review response from the 7 Minute Workout app: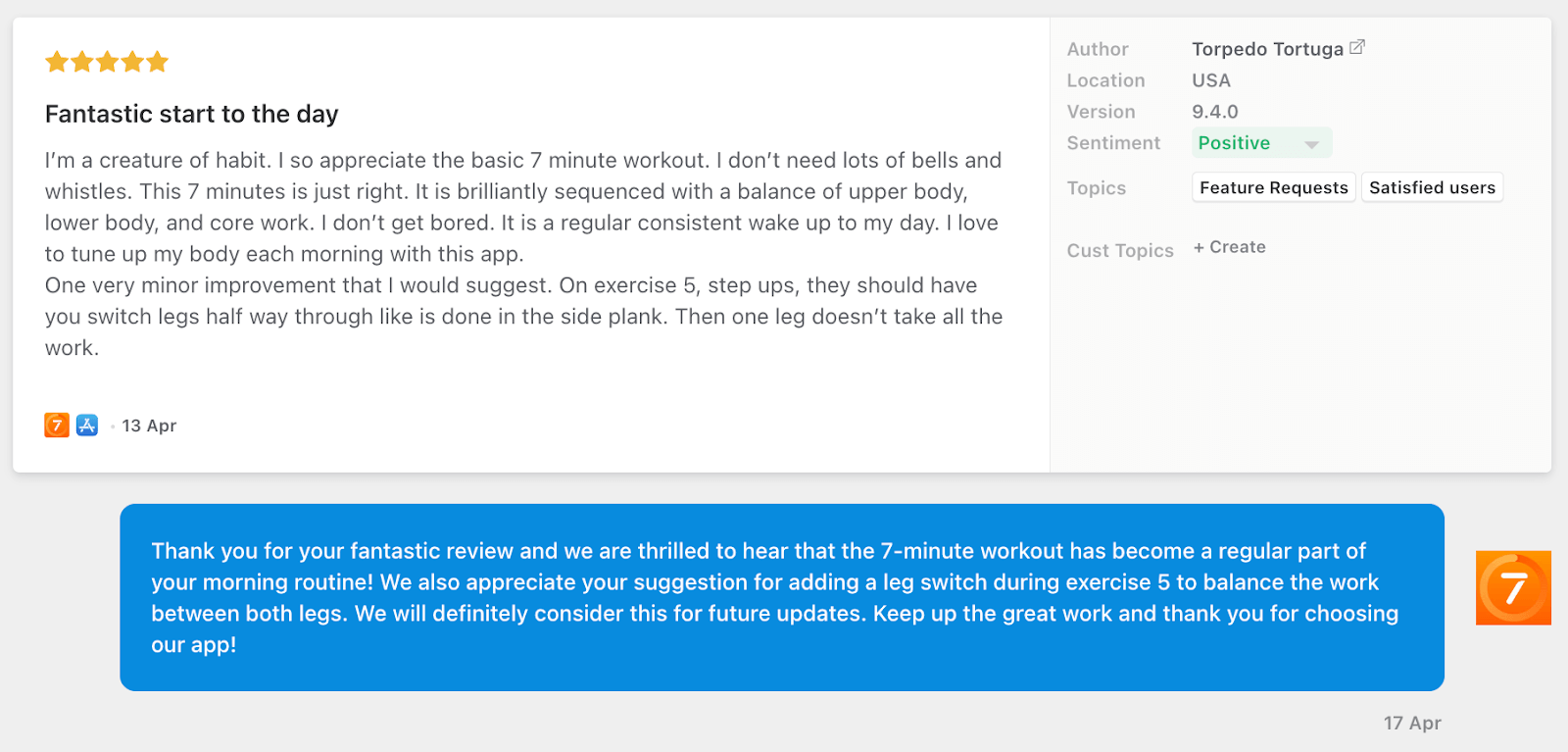 5. How can positive review responses help build customer loyalty?
Responding to a positive review can help you build loyalty by:
Showing the user that you value their feedback.
Opening a line of communication with your fans can buffer against negative feedback if they are disappointed with a future version of your app.
Offering an opportunity to direct fans to other online communities your company offers, such as moderated forums or Slack workspaces, where they can connect with other fans and level up their usage.
Here's a fantastic example where the Ring.com team do exactly this:

6. What are some common mistakes to avoid when responding to positive reviews?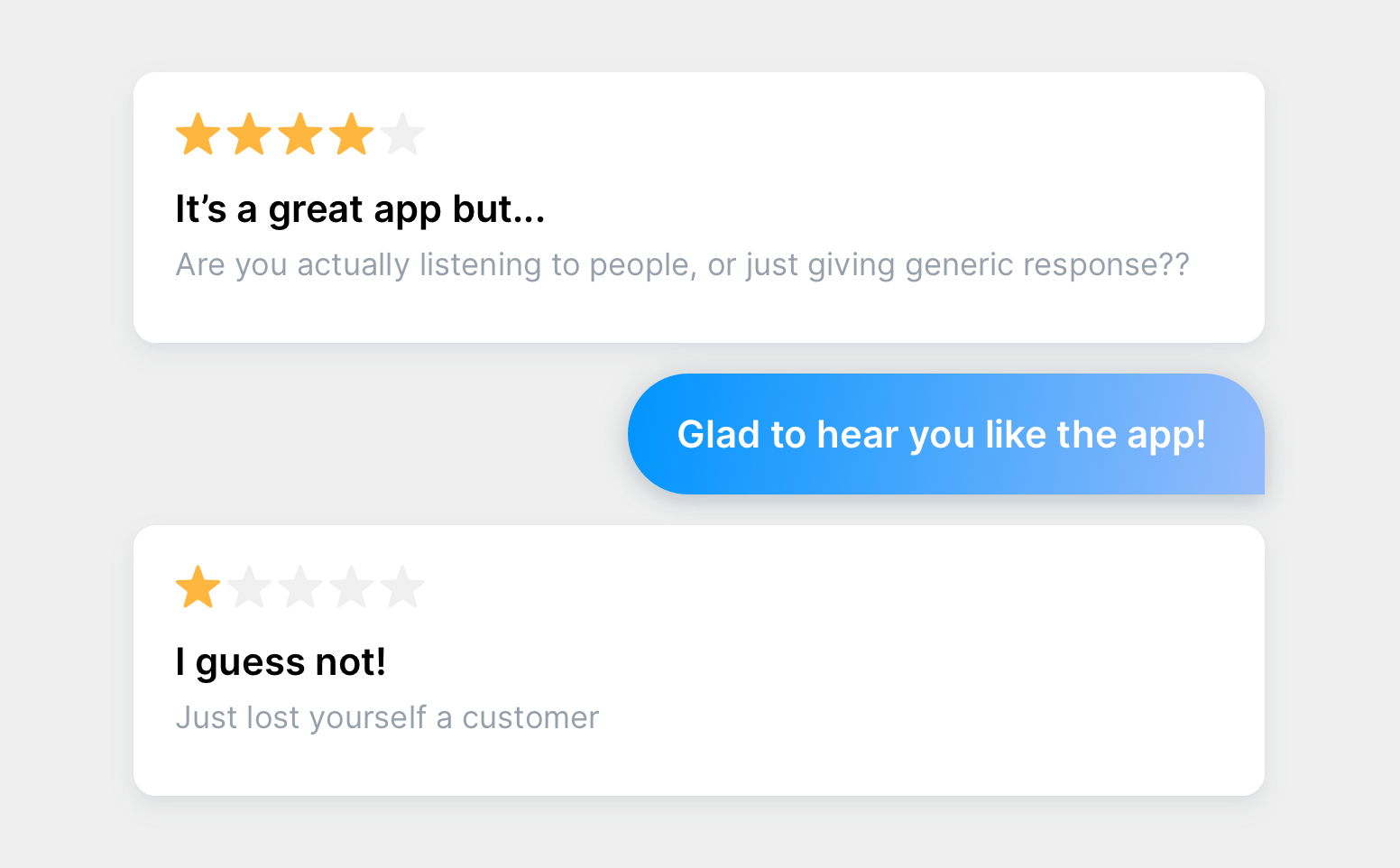 Don't (over)use templated responses. You might like to try AI generated responses to stay on point, and keep each response unique!
Avoid defensive language - try a curious tone instead.
Ensure you mix up your responses; a long list of reviews all receiving an identical response is not a good look!
Here's a perfect example of how over-use of a generic response can upset a user, and result in losing some stars: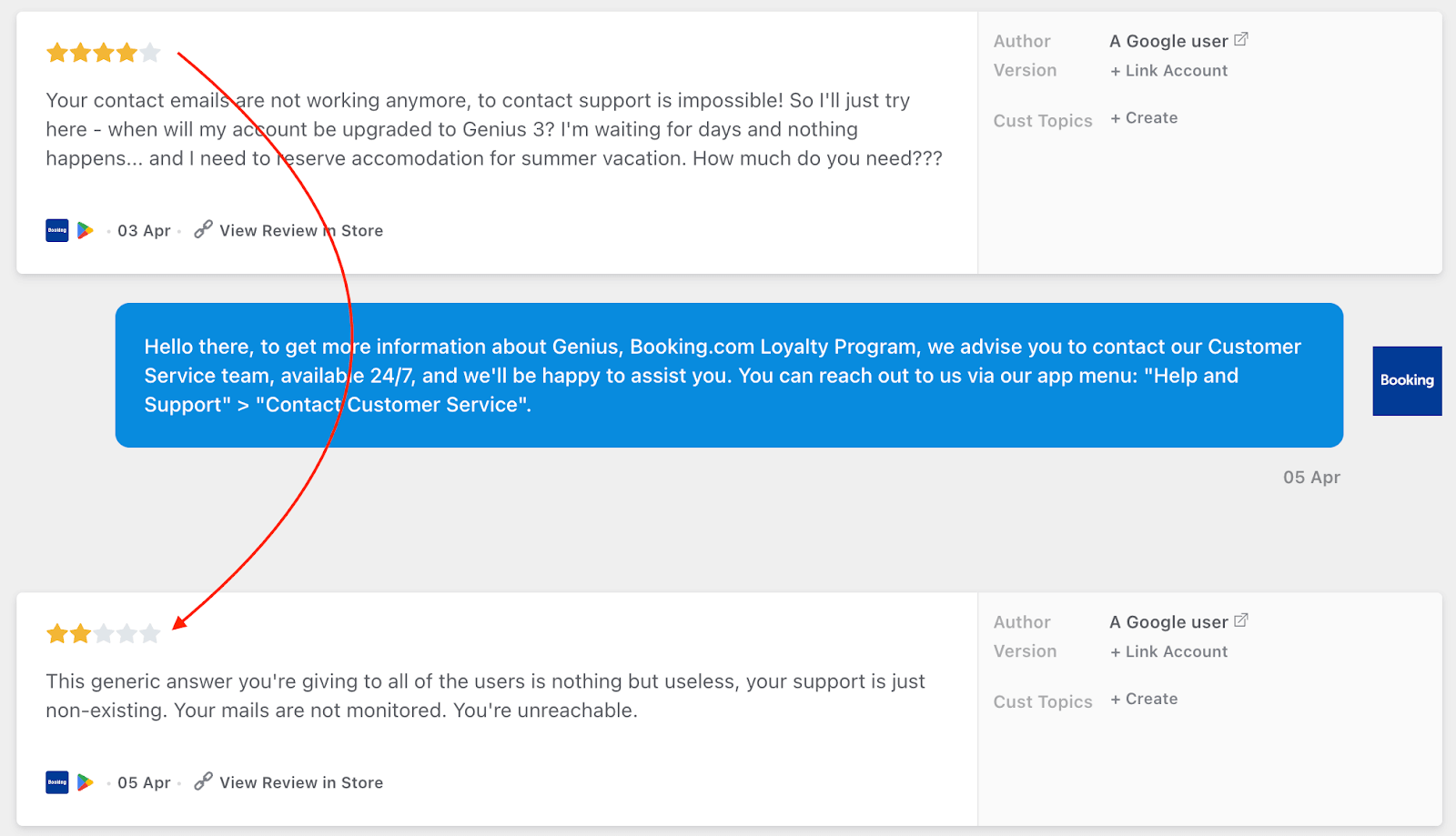 7. How can app developers measure the effectiveness of their positive review response strategy?
There are a number of different ways app developers can measure the effectiveness of their positive review response strategy. Personally, we're fans of a simple approach to reporting on replies effectiveness here at Appbot. For positive reviews look at:
Whether positive reviews you responded to are more likely to appear first on your public page. Position of a review on the public app store page is influenced by the "usefulness" of the review to potential downloaders, and the benefits of having your best positive reviews showcased there are obvious.
Measure your download rate following the implementation of your positive review response strategy.
8. What are some examples of mobile apps that have successfully used positive review responses to their advantage?
If you are looking for examples of how to reply to positive reviews effectively you can find some great examples written by the team at Ring.com on their Google Play or iOS apps.

You can also see some great examples by the 7 Minute Workout iOS app's support team.
9. How frequently should app developers respond to positive reviews?
As we said earlier; we recommend responding to all of your reviews. If that's not possible, you might like to prioritize and respond to the more detailed reviews first, or use Appbot's AI Replies to make sending unique replies faster and easier, allowing you to reply to more reviews!
---
---
About The Author
---
Enjoying the read? You may also like these