Amazon review analysis tool for Amazon Sellers
Appbot's Amazon review analyzer monitors reviews and provides easy-to-understand sentiment analysis to improve your seller performance. This means faster replies…and happier customers.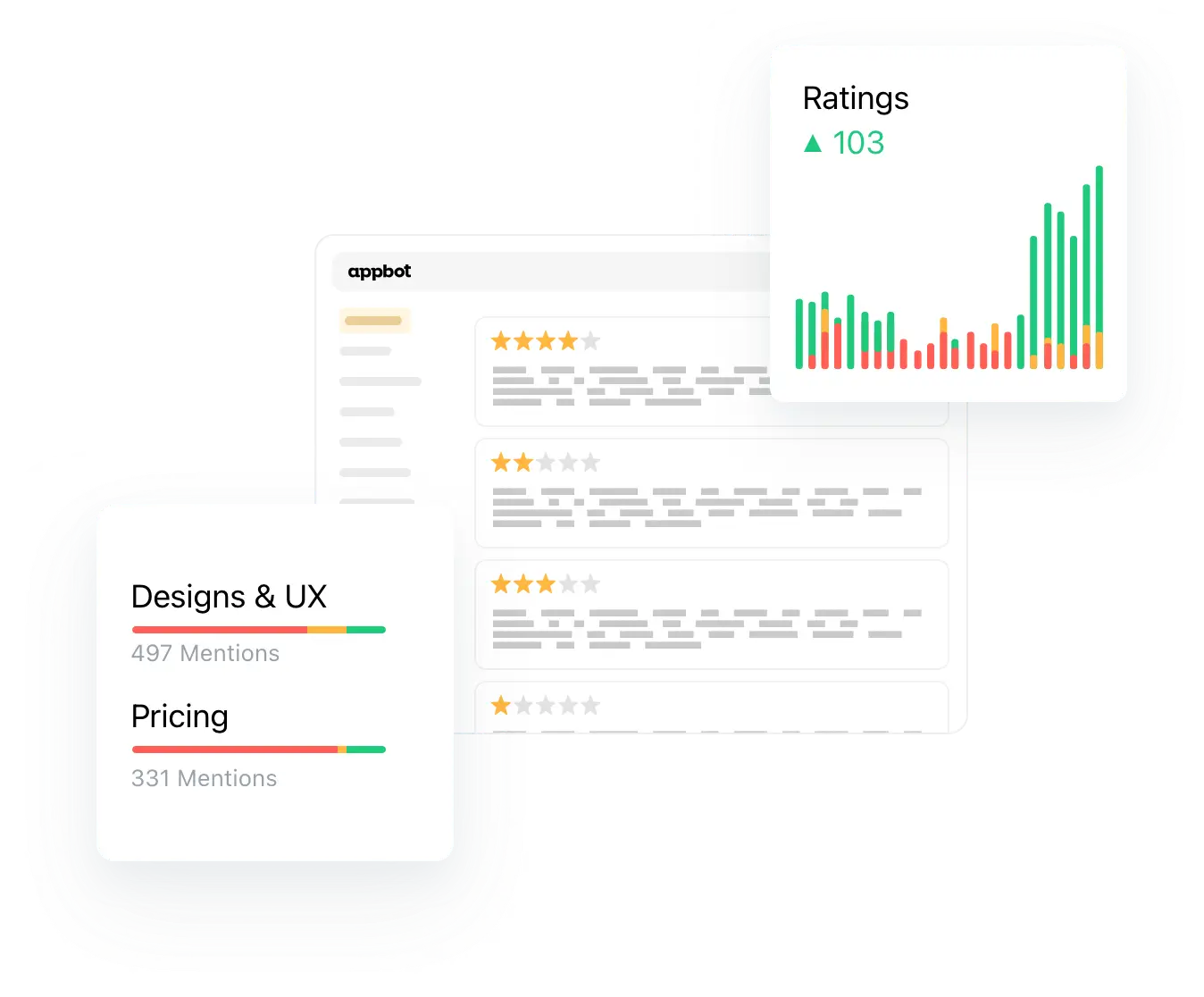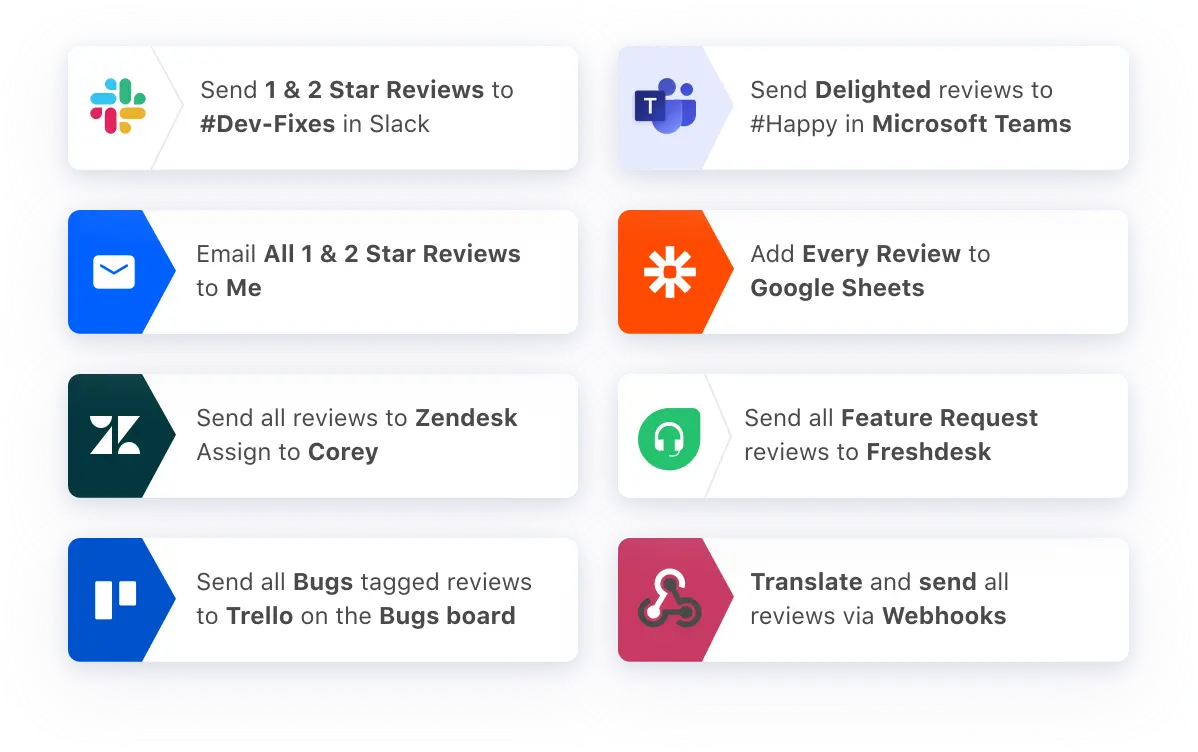 Alerts for Amazon marketplace reviews,
right where you need them
Appbot makes it easy to keep in touch with your Amazon marketplace reviews with integrations for your favourite tools. Send new reviews to your developers in Microsoft Teams, your customer support team in Zendesk, and your product team in Slack. Selected Appbot plans offer access for 3 or more users too, so everyone can report on sentiment and trends in reviews when they need to.
Integrates with your favorite tools
Faster, easier review replies via deep links
Integrate with other services via Zapier
Analyze Amazon reviews like a pro machine
Appbot's Amazon review analysis tool provides fully automated, easy-to-understand sentiment analysis for Amazon marketplace reviews. Measure trends in user sentiment, review volume and star rating over time so you can see what users think of changes you make to your products.
...Or zoom in on the details in a few clicks
Easily identify recurring themes in your Amazon marketplace reviews, without reading each one individually! Improve your products and your customer support faster, based on the quantitative feedback and sentiment of real users.
Over 25% of the Fortune 100 and 35% of top charting app developers use Appbot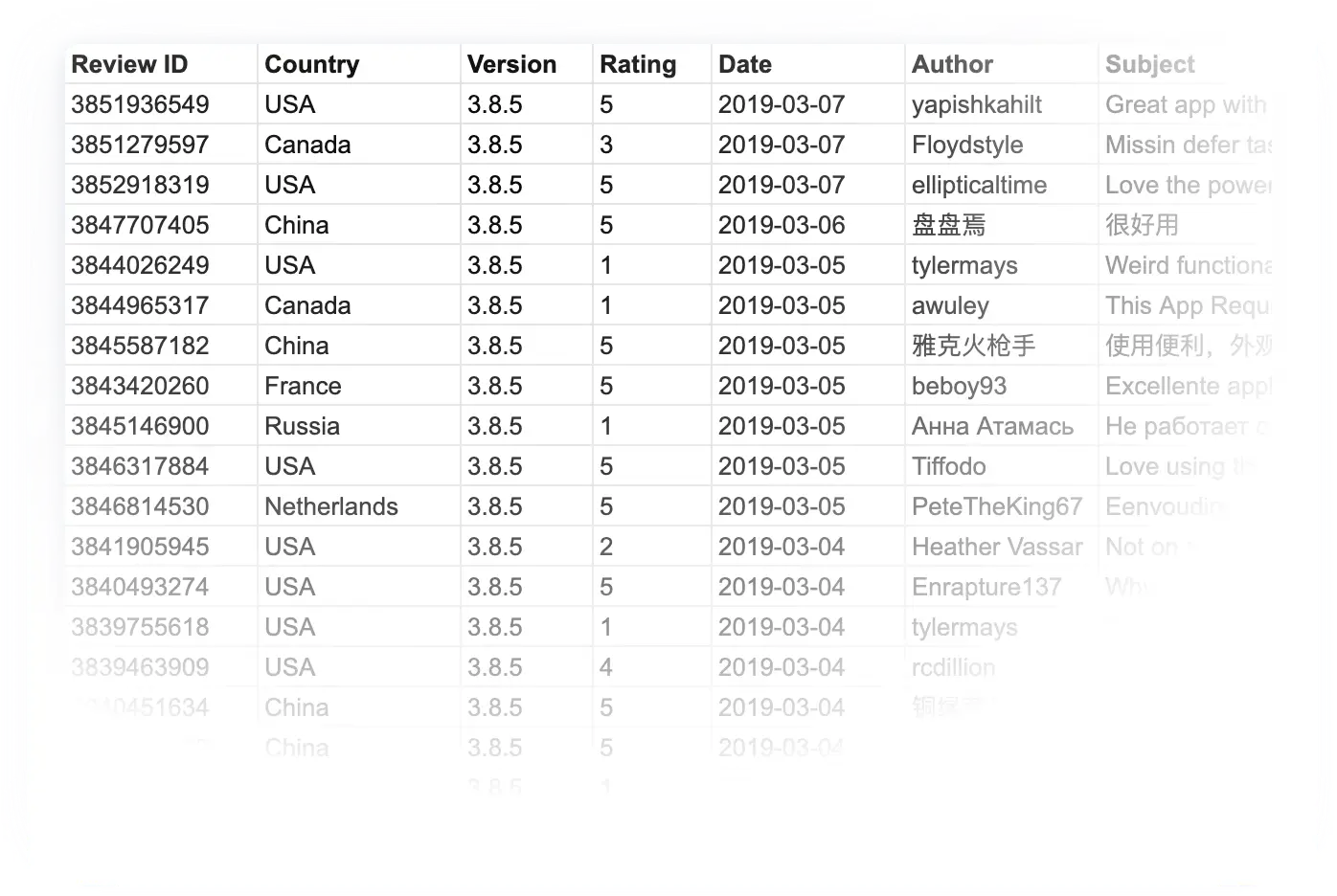 Simple tools to export to CSV
No Amazon review analysis tool would be complete without tools to export your data. Appbot offers easy tools to help you collate and export Amazon marketplace reviews, for one or more ASIN at a time. Choose from the following formats:
CSV
Excel (.xlsx)
Google Sheets
Don't just take our word for it…
"We all really love your product; it really alleviated so much pain from all the manual work we had to do. We truly all feel this was the best tool we purchased last year 😊"

Diane Chiang, Product Operations Manager
"Integrations are fantastic and we're getting everything we need from your platform. I don't know how we'd handle reviews without you!"

Adam Black, Director, Mobile Product Development
"10/10. Allows me to easily keep track of reviews — especially after a release."

Rory Smyth, Senior Product Designer
"10/10. Very personal service - team always on hand to go the extra mile for you and answer questions"

Nicola McCoy, Product Manager
"Appbot has seriously changed how our entire company views our product and has been a huge morale booster. The feature that has really stuck with everyone is the weekly report card and daily stream of app store reviews into a Slack channel. We've opened up the channel to the whole company to increase transparency and folks LOVE it."

Kyle Roderick, UI/UX Designer
"Appbot is one of the most cost-effective investments Anthem makes. The data is rock-solid and with my 'subscriptions' to ourselves and our competitors, I can see feedback in real time."

Douglas Forshey, Director of Digital Analytics & VOC
Provide better customer support
Appbot makes it easier to reply to customer reviews on Amazon.com. Most sellers don't take advantage of the opportunity to use replies to connect with customers. Reply to users and stand out from the crowd, your users will thank you with higher star ratings!
Reply faster from emails and integrations
Measure improvements in ratings
Turn 1-star reviews to 5-stars
Get everyone on the same page
Appbot plans are made to fit teams of every size. Connecting your team to your Appbot account saves hours in communications, and keeps everyone focussed on improving your Amazon products and Alexa Skills.