Flexible, customized Dashboards for you and your team
Overview, deep dive or benchmark report; Dashboards have you covered.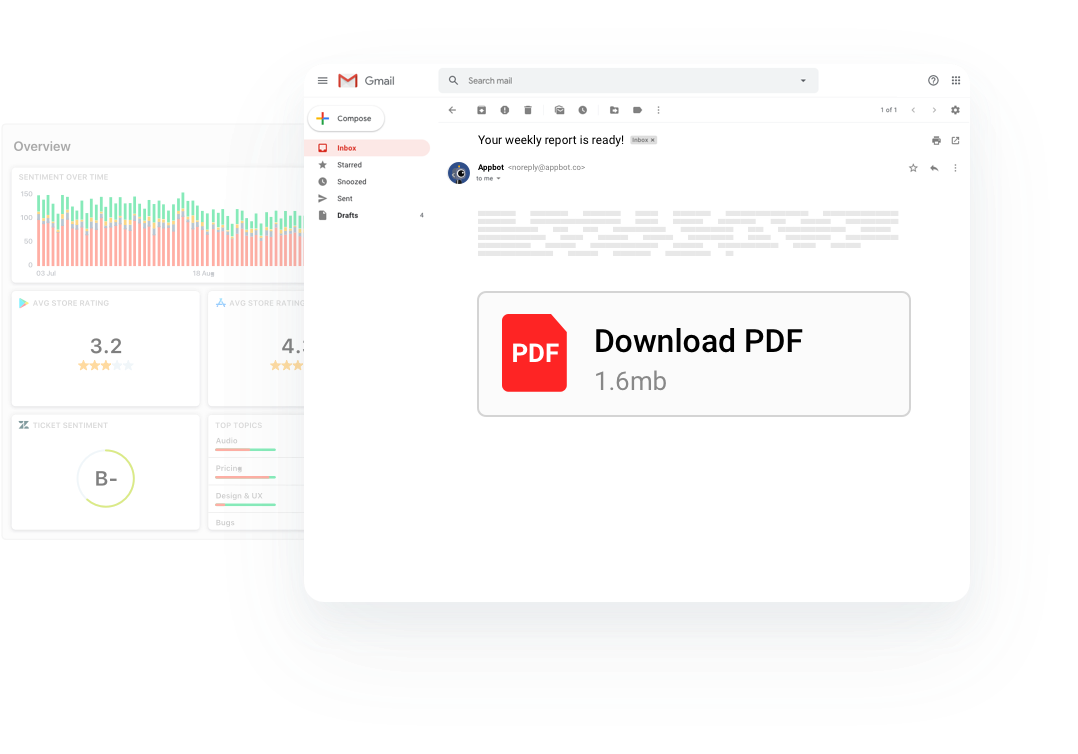 Save time with flexible, automated reports
Create reports that show all the data points you need on one page, with Dashboards. Dashboards offer widgets for most aspects of Appbot reporting, from Sentiment to Custom Topics and everything in between.
Save time by adding widgets for all the pages you usually reference on one screen, or use our scheduling tool to have your Appbot Dashboards sent to your inbox whenever you need them.
Dashboards take only minutes to create, with a simple drag-and-drop interface and granular filters to show you exactly the data you're looking for.
Focus everyone on the customer with fullscreen mode
Add an Appbot dashboard to the big screens in your office, using fullscreen mode. Distribute important information about your app or Amazon product ratings, sentiment, popular topics or keywords easily, without needing a seat for everyone in your team.
Focus your whole organization on the customer by displaying what's happening in the app stores in near real-time, so you can deliver a better customer experience with every new release.
Get an overview of your apps, or your competitors
Dashboards can be customized to look at multiple apps, products or other sources of customer feedback side by side. Compare ratings, sentiment stats, popular Words, Topics, Custom Topics or simply latest reviews side by side on a single screen.
Make it easy for your team to see which apps or products are performing the best or worst, without the need to switch between tabs or re-apply filters.
Track your own apps and products as well as those of your competitors. Appbot Dashboards can take the repetitive legwork out of side-by-side analysis so you can be more informed with less effort.
Deep dive report on each source
Dashboards make it possible to make a detailed report for a single app or source in a few clicks. Add widgets for everything from Ratings to keywords, so you can get enough insight to take action without visiting another page.
Use scheduled reports to automate your app store or Amazon store performance reports for your biggest selling products, and have them delivered right to your inbox before your team meetings.