Appbot for Product Managers
Make data-driven roadmap decisions that impact customer happiness
Supercharge your product roadmap
Get your roadmap on the right track by analyzing feedback you already have from customers, automatically.
Appbot uses world class sentiment analysis and natural language processing to surface insights such as:
Did user sentiment change after your last product release?
Which features do users mention most?
What is the sentiment for mentions of your newest feature?
Which feature request is most common?
Product Managers from the worlds biggest brands love Appbot
Improve → Measure → Learn → Repeat
Product Managers use Appbot to measure how users are responding to changes to your apps and products.
Appbot offers tools that make it easy to monitor the response to each improvement you make. Measure the sentiment associated with mentions of your latest feature, a bug you fixed, or updates to your pricing model to see how your changes are perceived by customers.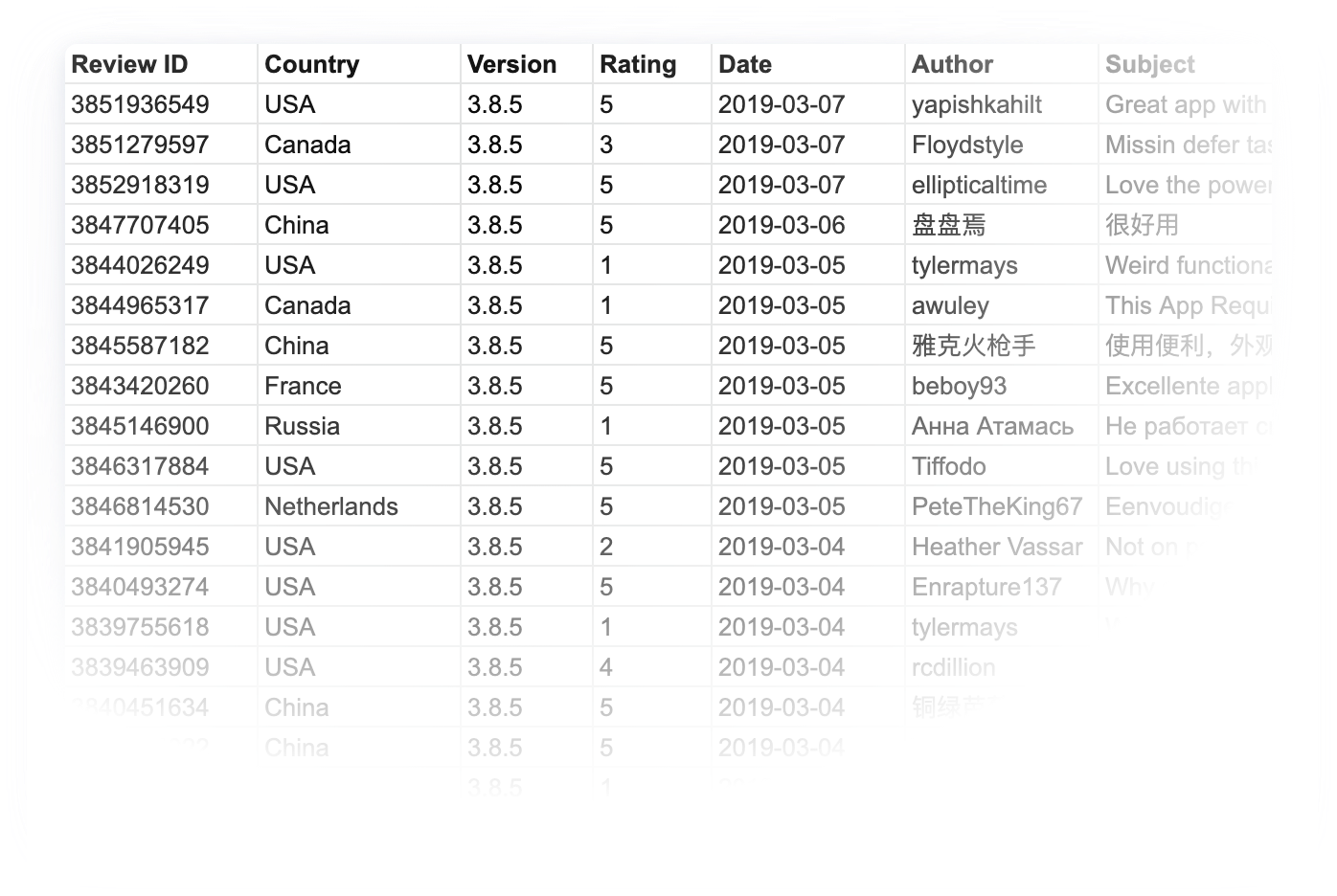 Understand what customers want most, without spreadsheets or manual tagging / Translate piles of unstructured user feedback into actionable insights
Appbot uses proprietary AI technology, specifically designed to understand the language used in short-form customer feedback such as app reviews or in-product surveys.
We'll read each piece of feedback as it is received and automatically categorize it by sentiment, keywords and topics. You'll be able to identify popular requests for new features, common complaints about your user experience, issues with your customer support, and much more in minute, not hours.
Prioritize the right features, at the right time
Ever spent a lot of time, effort and budget on a feature that users really didn't care about? Appbot makes it easy to see which features will have the greatest impact, from a users' point of view.
Plug into your existing workflows
Collect feedback from multiple sources including app stores, Amazon.com, UserVoice, NPS tools like Delighted, social media and hundreds of others via Zapier and Google Sheets.
Share it with the relevant teams and stakeholders automatically, with advanced filters to control which feedback you send to each tool. Appbot integrates with tools your team already lives in like Zendesk, Slack and Microsoft Teams.
Automate your reporting workflow
Appbot offers a host of different options to make roadmap prioritization even easier.
Try Dashboards for set-and-forget reporting templates, that can be scheduled to send to your inbox daily or weekly.
The Appbot API allows you to automate importing customer feedback, or exporting Appbot's sentiment and natural language processing results. The API can be used to connect to any third party tool we don't natively support, or to build your own, completely customized reports.
Our Tableau Web Data Connector lets you push Appbot data to Tableau, for correlation analysis with data from other tools.
Say goodbye to silos of user feedback
Centralize all your user feedback to get a single, clear picture of what matters most to users.
Appbot can analyze customer feedback from:
All major app stores
Amazon.com
Social media
NPS & other surveys
In-product feedback tools
Support tickets