Send app & Amazon reviews to Tableau, via the Appbot API
Make app & Amazon reviews visible across your team. The Appbot API makes it possible to monitor app reviews from all major stores, plus Amazon product reviews, in Tableau.
Over 25% of the Fortune 100 and 35% of top charting app developers use Appbot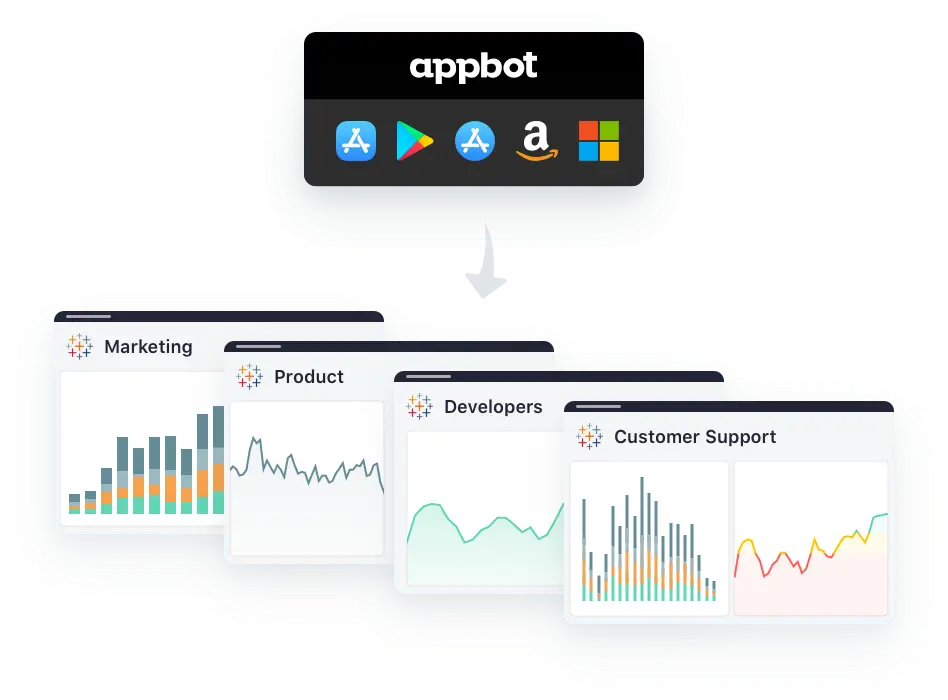 Share app & Amazon reviews across your organization, in Tableau
Bringing app review data into Tableau gives your whole organization visibility into what's happening on the app stores. Improving visibility over reviews and ratings has several major benefits:
Identify bugs and complaints early, fix faster
Monitor star ratings and reviews
Surface feature requests
Understand correlation between app reviews and conversion
Pinpoint changes in user sentiment
Focus your roadmap on things users care about
Respond to customers faster
What data can I send from Appbot to Tableau?
Seamlessly send app reviews from Apple, Google Play, Microsoft & Amazon to Tableau. Amazon Product reviews are also supported.
Track your Google Play and iOS Ratings data in Tableau, where you can easily correlate it with other data sources such as marketing spend or download volume.
You can even send the results of Appbot's world-class natural language processing analysis into Tableau to give your whole organizatio visibility over the most commonly mentioned words and topics in your reviews.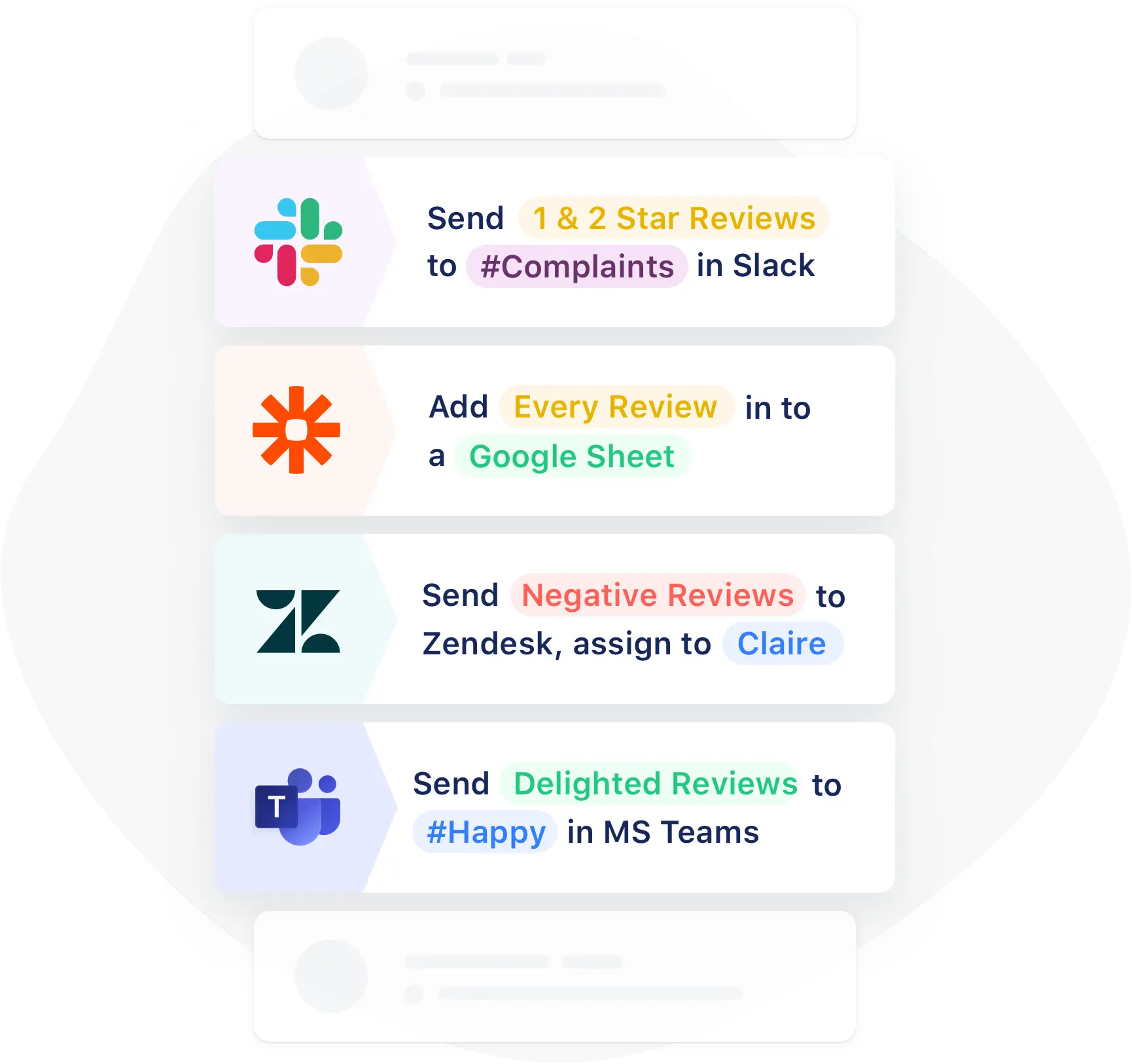 Appbot also works with your other favorite tools
Not everyone in your team spends time in Tableau every day. Appbot also works with popular collaboration tools like Slack and Microsoft Teams as well as CRMs like Zendesk & Freshdesk. Appbot also connects to Zapier, opening up hundreds of other possibilities like sending reviews straight to JIRA or Salesforce.
Don't just take our word for it…
"We all really love your product; it really alleviated so much pain from all the manual work we had to do. We truly all feel this was the best tool we purchased last year 😊"

Diane Chiang, Product Operations Manager
"Integrations are fantastic and we're getting everything we need from your platform. I don't know how we'd handle reviews without you!"

Adam Black, Director, Mobile Product Development
"10/10. Allows me to easily keep track of reviews — especially after a release."

Rory Smyth, Senior Product Designer
"10/10. Very personal service - team always on hand to go the extra mile for you and answer questions"

Nicola McCoy, Product Manager
"Appbot has seriously changed how our entire company views our product and has been a huge morale booster. The feature that has really stuck with everyone is the weekly report card and daily stream of app store reviews into a Slack channel. We've opened up the channel to the whole company to increase transparency and folks LOVE it."

Kyle Roderick, UI/UX Designer
"Appbot is one of the most cost-effective investments Anthem makes. The data is rock-solid and with my 'subscriptions' to ourselves and our competitors, I can see feedback in real time."

Douglas Forshey, Director of Digital Analytics & VOC
Get started with Appbot and Tableau in minutes
1
Start your Appbot free trial
2
Start tracking your app reviews and Amazon product reviews in Appbot
3
Connect Appbot to Tableau
4
Choose which feedback to send to Tableau