Track app store reviews and ratings from all major app stores
One place to monitor and track app store reviews and app store ratings from the iOS, Mac, Google Play, Microsoft and Amazon app stores. Spot trends in feature requests & surface bugs faster.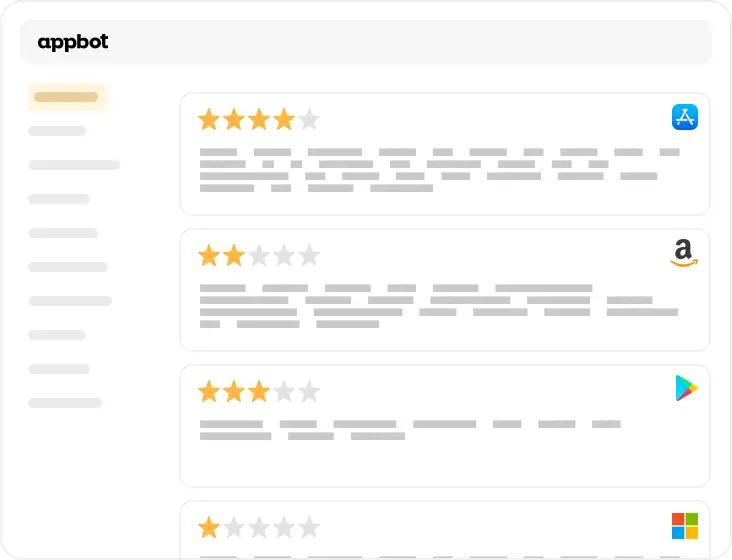 Identify bugs before they affect your star rating
Aggregating and analyzing appstore reviews globally, across all major stores gives you a new perspective on your customer experience. Appbot makes it easy to track how the changes you are making are being received, by analyzing customer feedback you already have on the app stores.
Surface feature requests, common complaints and more in minutes
Tracking how customers feel is important, but understanding why they feel that way will help you take your apps to the next level. Appbot makes it easy to spot problems immediately at a macro level, and then lets you drill in to the details quickly and painlessly. Solve problems faster and protect your hard-earned star rating without manually reading each app review individually.
Visualize trends in sentiment
Surface common complaints in minutes
Automatically classify feedback by Topic
Create your own Custom Topics & Tags
Make feedback driven improvements, and grow faster
World class sentiment analysis & natural language processing, developed specifically for mobile app reviews
Unlike traditional sentiment analysis & natural language processing tools, our proprietary AI technology has been developed to read and interpret the nuanced language we see in app reviews. Think emoji, common abbreviations and unusual grammar patterns like overcapitalization.
Algorithms trained on over 400 million records
Sentiment analysis consistently >93% accuracy
Turn unstructured text into beautiful visual reports
Measure improvement over time, automatically
Make feedback driven improvements, and grow faster
Plug appstore reviews into your existing workflows
Share appstore reviews wherever they are needed. We understand that different teams live in different tools, and are interested in different types of reviews. Appbot supports popular collaboration tools like Slack and Microsoft Teams, CRMs like Zendesk and Freshdesk, and lets you plug into tools we don't natively support via Zapier, webhooks, or our API.
Appbot gives you the flexibility to filter which reviews you send to each tool, or each channel within the same tool. Segment reviews by star rating, topic, language and more to ensure everyone sees only the most relevant content.
Track & analyze App reviews & Amazon reviews in one place
Monitor and analyze aggregated app reviews from the Apple, Google Play, Amazon & Microsoft appstores, alongside your Amazon product reviews in a few clicks.
Ready to better understand your apps?
Quick setup•Free for 14 days•No credit card required