Review monitoring for mobile apps
Monitor app store reviews & Amazon product reviews efficiently. Appbot sends app review alerts for new reviews via email, Slack, Zendesk & more. Faster replies. Happier customers.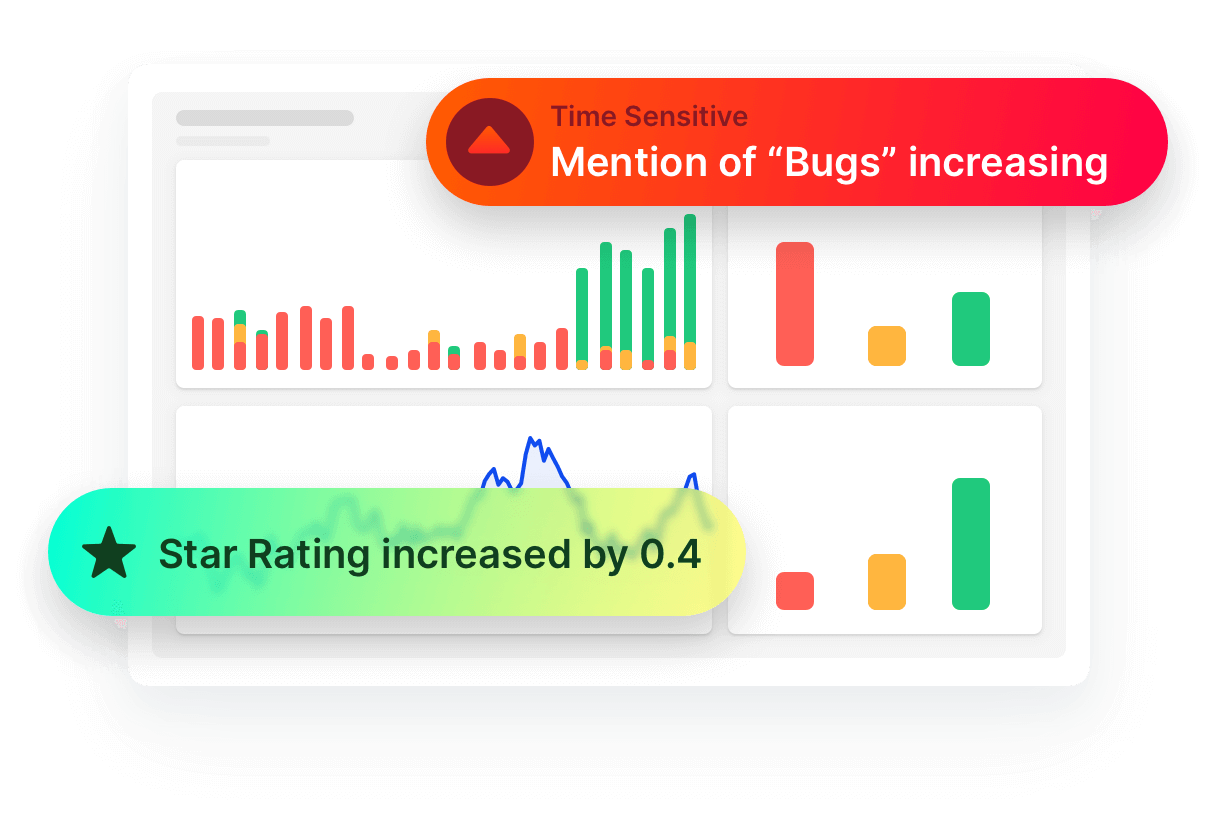 Why is review monitoring important?
Review monitoring is important for several reasons:
It allows businesses to stay informed about customer feedback online.
It helps businesses identify areas for improvement and make data-driven decisions.
It helps businesses manage their online reputation.
Responding to reviews can build trust and loyalty among customers.
It can help businesses stay ahead of their competitors.
It allows businesses to analyze customer feedback and identify trends in the market.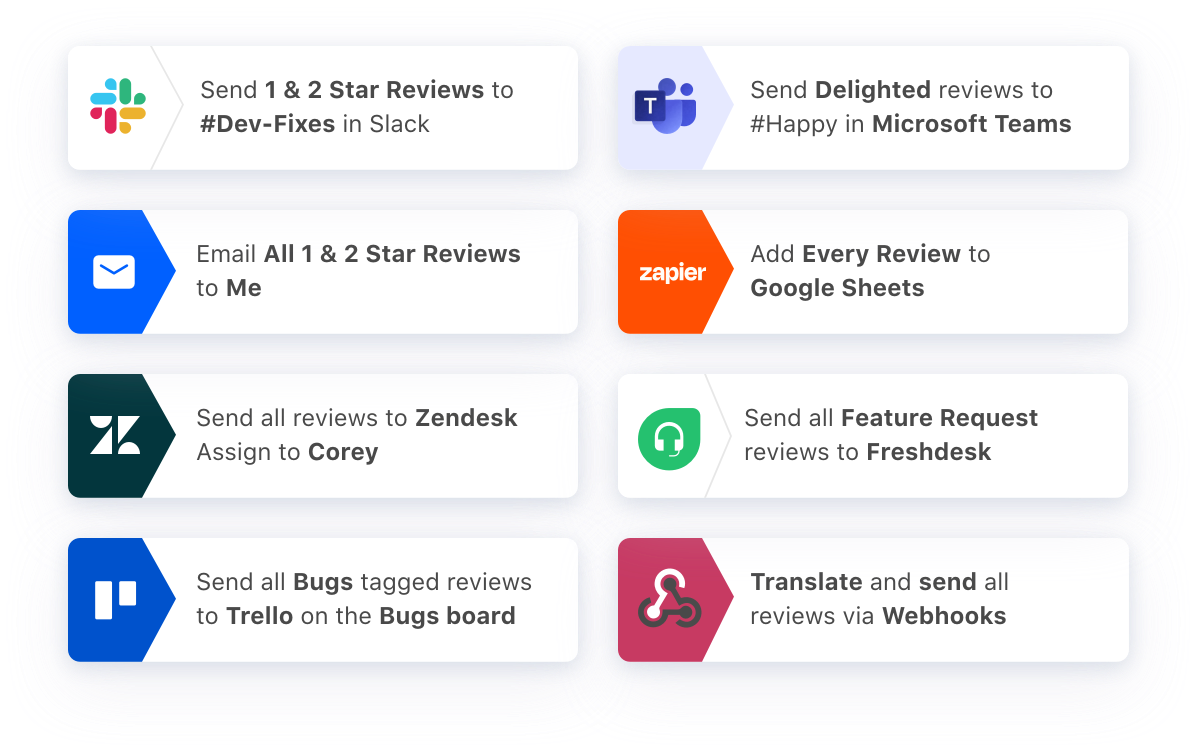 Add app review monitoring to your existing workflows
Want app review alerts to keep your technical team in the loop on new bug reports via Slack? Or send 1 and 2-star reviews to your CRM so the support team can reply? Appbot's integrations have you covered.
No limit on the number of integrations per app or product
Reviews automatically translated to English
Filter which reviews to send to each integration by star rating, country, language, or Topic.
Integrations allow for review monitoring in messaging apps, CRMs and more
Appbot also supports Zapier, opening up hundreds of other integrations.
Review Monitoring for apps and products big and small
Appbot's review aggregator makes review monitoring easy, whether you receive a handful or thousands of reviews per day. Appbot brings reviews from all the major app stores together, as well as Amazon product reviews.
Customize your Appbot account so you receive as many or as few alerts about your app and Amazon review monitoring as you need.
Our sentiment & text analysis tools make it easy to analyze the content of reviews without reading them individually. Perfect if you receive a high volume of reviews each day.
Faster customer support, happier customers
Appbot makes it easier to reply to your customers on Amazon, iOS and Google Play. Most sellers don't take advantage of the opportunity to use replies to connect with customers. Reply to users and stand out from the crowd - your users will thank you with higher star ratings!
Reply faster from emails and integrations
Measure improvements in ratings
Turn 1-star reviews to 5-stars
Sentiment & Text Analytics built specifically for reviews
Effective review monitoring is vital, but that's only the part of the picture.
Appbot also makes it easy to measure trends in sentiment globally (yep, all countries!) across all your app and Amazon reviews. Our sentiment analysis tools have been specifically designed to understand the short-hand language commonly found in reviews - emoji, abbreviations and colloquialisms are all taken into account.
Appbot reads and categorizes all of the app reviews and Amazon product reviews that you connect to your account. Our bots groups pieces of feedback together according to sentiment, topics and keywords. Use the Words tool to see what the most commonly used keywords in your reviews are, use Topics to see what themes are popular with customers. Appbot even makes it possible for you to design your own automated Custom Topics or Tags which can be applied manually.
Get everyone on the same page
Appbot plans are made to fit teams of every size. Connecting your team to your Appbot account saves hours in communications, and keeps everyone focussed on improving your apps and products.