Understand customer feedback from virtually any source in minutes
Make data-driven improvements to your customer experience with powerful sentiment, keyword and topic analysis on any text-based feedback.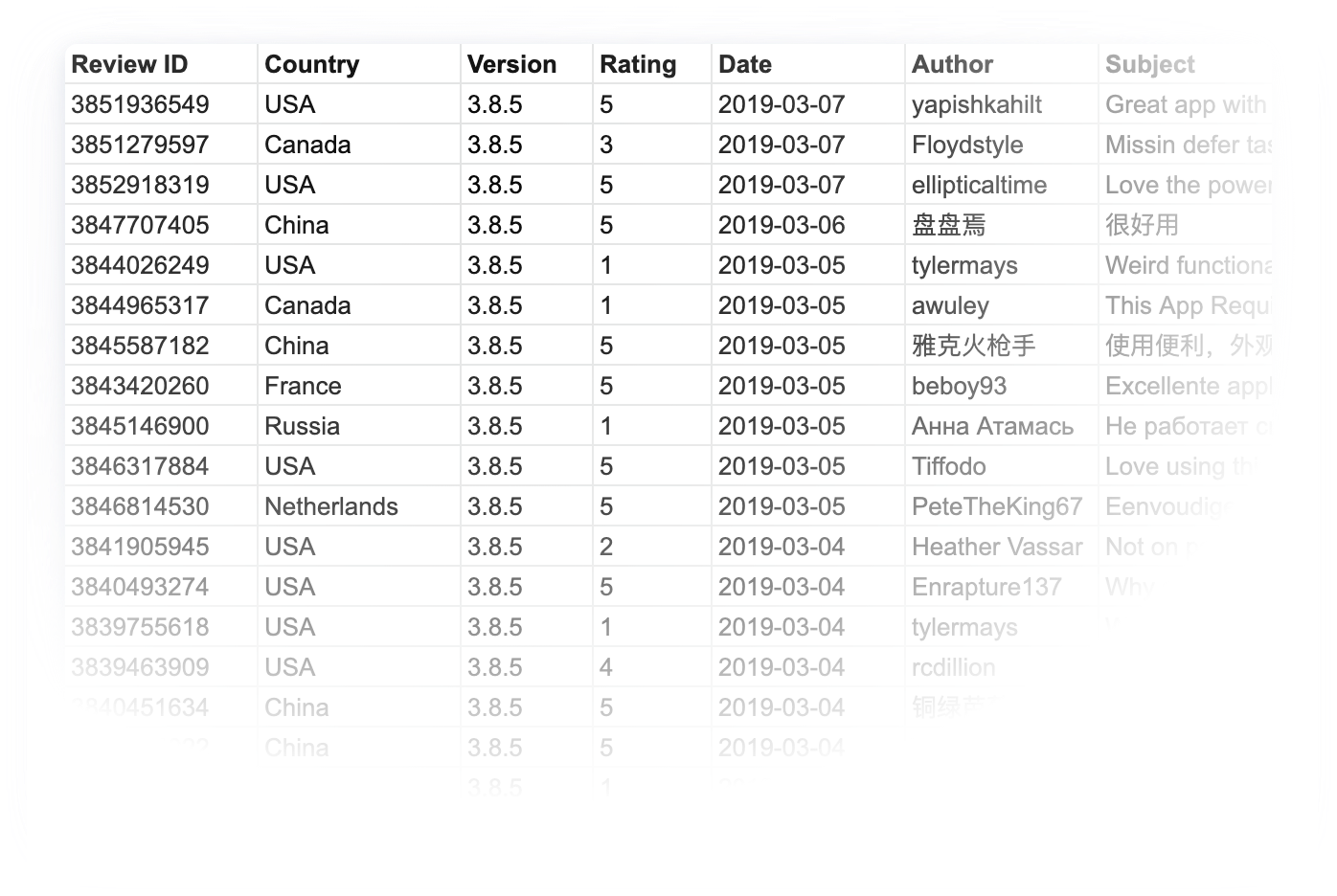 So much feedback, so little time
Make manual tagging and categorization a thing of the past, and reclaim hours for your team every week. Focus on improvement, not data analysis, and deal with problems before they affect your brand or reputation.
Appbot's AI-driven sentiment analysis has been developed specifically to understand the unique way that language is used in short-form customer feedback. Whether you are analyzing app reviews, product or place reviews, survey or NPS responses, support tickets, in-app feedback or social media, Appbot will automatically create beautiful visualizations to help you see how customers feel about changes to your apps & products. Use our powerful topic, phrase and keyword analytics to understand what drives changes in sentiment.
Automated sentiment and text analysis that supports the world's favorite tools
Appbot offers a range of tools to make it simple to import your user feedback on demand, or in real-time.
Appbot API

Push data from any third party tool directly into Appbot, with our RESTful API. The API offers limitless flexibility to import only the data you're interested in, structured exactly as you want it.

Google Sheets

Our Google Sheet connector will grab new rows in your Google Sheet as they appear, and import them into Appbot for analysis. Let our AI-driven sentiment and text analysis tools save your team hours every week.
Zapier

Zapier offers tools to connect hundreds of services to Appbot. Automatically import JIRA tickets, Salesforce cases, SatisMeter or Survey Monkey responses and many more without writing any code.

CSV or XLSX import

Many products offer "export to CSV" functionality, making this one of our most popular feature requests ever! Import any text-based customer feedback from a CSV, whenever it suits you.
Sentiment Analysis that just works
Answer questions like these in minutes, without reading all your user feedback verbatim.
How did our recent app update affect sentiment?
Do customers like our new feature?
Is sentiment on our Google Play app reviews different to sentiment for iOS app reviews?
What are the things people complain about the most?
Centralize your Voice of the Customer data
Align your reporting across all your customer feedback channels, with Appbot. Compare or aggregate app reviews, product reviews and other feedback sources all in one tool. Monitor one set of KPIs to help you truly understand the major issues your users face, and identify opportunities to improve. Empower your customer analytics team with cross-channel reporting that saves them time, and delivers greater value.
Appbot reads all of your app reviews, Amazon reviews and any other types of feedback you connect to your account. Our bots group feedback together according to sentiment, topics, common phrases and keywords. Use the Words tool to see what the keywords that are most commonly used in your feedback, use Topics to see what themes are popular with customers. Appbot even makes it possible for you to design your own automated Custom Topics or Manual Tags.