App Review Sentiment Analysis and App Analysis tool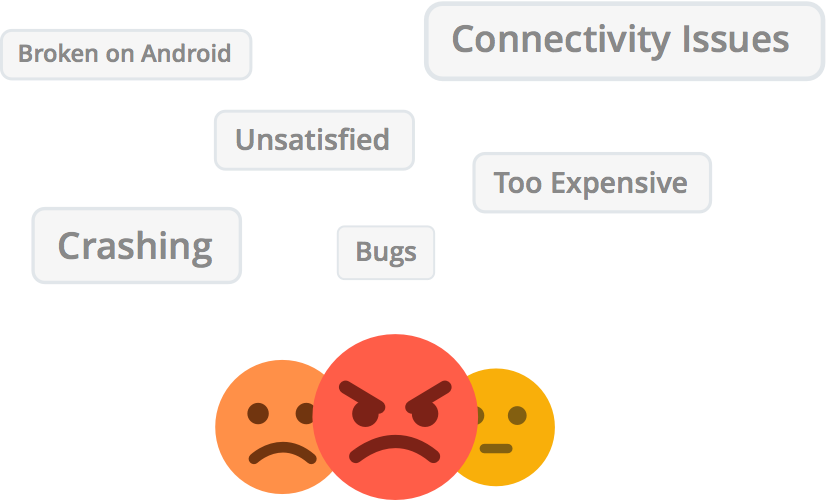 Understand the sentiment of your app users in minutes with fully automated app review sentiment analysis from Appbot.
Turn 1 star reviewers into your biggest fans, using Appbot Sentiment.
How does it work?
Appbot's Sentiment Dashboard allows you to visualize your app review sentiment so you can understand how users feel at a glance. Appbot also surfaces bugs, feature requests and more in your app reviews.
We're developed proprietary technology to help you understand your users accurately, based specifically on the nuances of the way language is used in app reviews. Most sentiment analysis requires proper use of spelling and grammar, two things that app reviewers tend to ignore.
Our bots read every single review for you, saving you hours every week. We analyze your app review sentiment using our proprietary technology, and categorize each review automatically. You'll be able to clearly see changes in sentiment over time, making it easy to attribute large changes in sentiment and star rating to major updates you've made to your app.
How long does it take to set up?
Less than 5 minutes. Simply sign up for an Appbot account, add the apps you'd like to analyze, and we'll do the rest. You'll see results start to appear within minutes. Within an hour we'll have the history for your app reviews fully analyzed and ready to report on.
What app review sentiment reports does Appbot include?
Click here to sign up for an Appbot account to see how your users really feel - it takes only a few minutes. Read more about Appbot's app review sentiment analysis reports here.
Our aim is to take the pain out of managing your app store reviews and enable you to provide better support to your customers. With Appbot, you can keep your product development roadmap focussed on the things that matter the most to your customers.
If you need any further assistance about Appbot's app analysis tool, don't hesitate to contact us at support@appbot.co with any questions or check out our FAQ section here.
Trusted by the world's top app companies