App review & ratings analysis for mobile teams
Monitor and analyze app reviews from iTunes, Google Play, Windows and Amazon, globally.
Make better roadmap decisions
Identify and fix bugs faster
Get custom review notifications
Over 35% of Top Charting Apps Use Appbot.
Pinterest
Target
Vodafone
NYTimes
Expedia
Verizon
Deutsche Bank
Twitter
TimeWarner
BMW
Microsoft
Rovio
10/10. Very personal service - team always on hand to go the extra mile for you and answer questions
Appbot provides us with some great visibility of App performance across platforms.
10/10. Allows me to easily keep track of reviews. Especially after a release
App review analysis in minutes, not days…
See what app store reviews are about without lifting a finger. Make better, faster decisions about your product roadmap, based on the feedback and sentiment of real users.
Custom Topics
Automatically group reviews into your own custom categories
Automatic Topic Grouping
Save hours with automated categorization of app reviews
Sentiment Breakdown
Quickly see how negative or positive your user reviews are
Identify Trends
Identify trends in your reviews before they affect your star ratings
…without losing sight of the big picture
Appbot provides fully automated, easy-to-understand sentiment analysis for mobile app reviews. Measure trends in user sentiment, review volume and star rating over time so you can see what users think of changes you make to your apps.
Add app store user reviews to your existing workflow
Appbot makes it easy to share app store user reviews and insights, even if your developers want to read app reviews in HipChat, your customer support team need to reply to Google Play reviews via Freshdesk, and the product team wants to see app reviews in Slack. Selected Appbot plans offer access for 3 or more users too, so everyone can report on reviews when they need to.
Integrates with your favorite tools
Faster, easier review replies
Integrate with other services via our API
Get everyone on the same page
Appbot plans are made to fit teams of every size. Connecting your team to your Appbot account saves hours in communications, and keeps everyone focussed on improving your apps.
Provide better customer support
Appbot makes it so simple to reply to Google Play users. 97% of apps don't take advantage of the opportunity to use replies to connect with customers. Reply to users and stand out from the crowd, your users will thank you with higher star ratings!
Reply faster from emails and integrations
Measure improvements in ratings
Turn 1-star reviews to 5-stars
Custom Data Sources
Appbot Custom Data offers native integrations that allow you to monitor trends in topics and sentiment directly from all your favorite sources. Learn more about Custom Data Sources →
App reviews in all major mobile app stores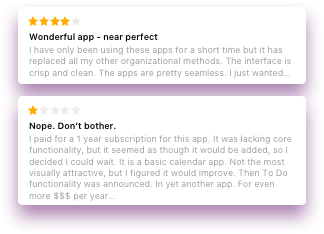 Support tickets in Zendesk or Intercom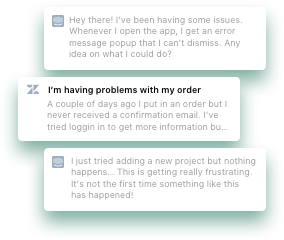 Any text data in CSV format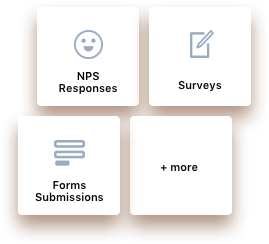 Or connect 1,000+ apps and automate your workflows with
Just set up the integration, and we'll automatically pull new data in as it's available. Appbot can also analyze any other unstructured text source. Just put it in a CSV, and import.
Unlock your data with our App Review API
Integrate Appbot with other tools
Using a CRM or Business Intelligence tool we don't currently support? Use our app store review API to plug in Appbot data.
Build Customized Reports
Create multi-series charts to analyze app store reviews across app stores or compare date ranges. Build reports with aggregate data for several apps to benchmark groups of apps.
Centralize Your App Data
Understand the correlation between app store reviews and other data points like marketing spend, downloads and sales… or anything else you have a data set for!